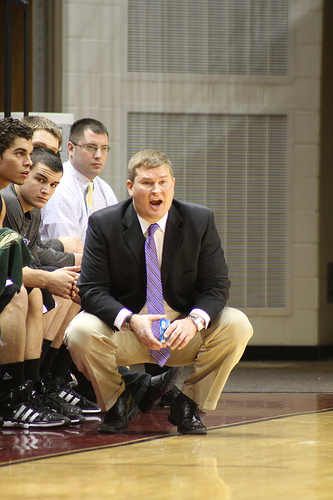 Jody May, who has served as a member of the men's basketball coaching staff at Albion College since 1997, was promoted head coach in October of 2008.
In the 2018-19 campaign, Coach May had a tremendous season, culminating in 1st Team All Conference Awards for sophomores Jamezell Davis, Jr., and Caden Ebeling. Two seniors, Jaylin Fordham and Arshawn Parker, were also Honorable Mention All Conference.
The player's success resulted in the best season of Coach May's tenure at Albion College. With a final record of 19-9 (10-4), the Britons finished second place in the regular season in the MIAA and won the conference tournament. A buzzer beater win (and #3 play on Sportscenter Top 10) in the semi's helped Albion advance to the conference championship game, where they beat Trine in a thriller. The season ended in the 1st round of the NCAA Tournament to Loras who advanced to the Sweet 16 out of the pod.
Coach May has consistently developed players who have been recognized on all-Michigan Intercollegiate Athletic Association teams. Andrew Holms was a first team pick in 2009, J.C. Cruse gained first team status in 2010 and 2011, Kolin Kazen achieved first team distinction in 2012, and Jordan Herron was a second team pick in 2014. Travell Oakes shared the league's Defensive Player of the Year award in 2015 and he was joined by Herron on the all-league second team. Corey Wheeler, a junior, also second team All-MIAA in the 2016 campaign.
May achieved a career milestone Feb. 13, 2016 when he gained his 100th victory as head coach in the Britons 81-66 victory over Olivet.
With May on the bench assisting former head coach Mike Turner (first as the assistant coach in 1997, then moving up to the associate head coach prior to the 2002-03 campaign), the Britons compiled a 182-85 overall record with two NCAA Division III Tournament berths. In 1998, Albion earned an automatic berth to the NCAA Division III Tournament by winning the MIAA tournament. Albion was an at-large selection to the NCAA Tournament in 2005, advancing to the sectional final (round of eight).
He has also coached two Division III select teams that have gone on tours to Holland, Belgium, and Austrailia.
A native of Elida, Ohio, May came to Albion after two seasons with as an assistant men's basketball program at Hanover College. During the 1995-96 season, May helped guide the Panthers to the Indiana Collegiate Athletic Conference championship and the second round of the NCAA Tournament.
A captain on the 1993 NCAA Division III championship squad at Ohio Northern University, May immediately moved into the coaching ranks upon graduation in the spring of 1993. May served as an assistant coach at Bluffton (Ohio) College for two seasons while earning his master's degree at Bowling Green State University in Ohio.
May resides in Albion with his wife Julie and son Jackson.